Dhaka, February 07:- The Annual Cultural Programme and Prize Giving Ceremony 2019-20 of BAF Shaheen English Medium School (BAF SEMS) was held at the BAF Shaheen Hall, Dhaka on Thursday (06-02-2020). Assistant Chief of Air Staff (Operations) Air Vice Marshal M Abul Bashar, BBP, OSP, ndc, acsc, psc graced the ceremony as the Chief Guest.
He distributed Merit Awards among the meritorious students and the 'Chief of Air Staff Crests' among the high achievers of O' Level Examination held in 2019 from BAF SEMS.
Fatimah Binti Sharif   was awarded with the 'Best Student of 2019' in Junior Group and Nur-E-Nusaibah was awarded with the 'Best Student of 2019' in Senior Group.  Miss Tauhida Arfin was awarded with 'The Best Teacher of 2019'. Mars House was awarded with Champion Trophy of 2018-19 in Academics and Runner-up Trophy was awarded to Venus House in the same field. At the same time Champion Trophy in Discipline was awarded to Jupiter House where as Mercury House received the Runner up Trophy. In cultural field Venus House was awarded with the Champion Trophy and Mercury House was awarded with the Runner Up Trophy.
The Overall Champion Trophy was Awarded to Mars House and Runner Up Trophy was awarded to Jupiter House.
On this occasion, the Chief Guest applauded the remarkable feat attained by the students of the school. He expressed hope that the school would continue this prosperous trend in future. Air Vice Marshal Muhammad Nazrul Islam, BSP, nswc, afwc, psc, Air Officer ommanding BAF Base BSR & Chairman Governing Body of the school was present there.
In the welcome speech, the Principal of BAF SEMS Group Captain Ferdous Mannan, psc highlighted the outstanding achievements of the school in both academic and co-curricular activities. The Prize Giving Ceremony was followed by a spectacular cultural programme in which the artists of BAF SEMS showcased their talents by performing songs, recitations, dances and drama. Senior Officers of Bangladesh Air Force, parents, teachers, office staff and students of the school were present on the occasion.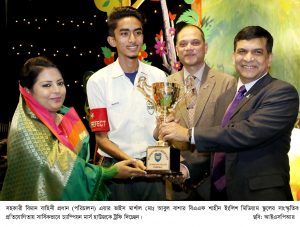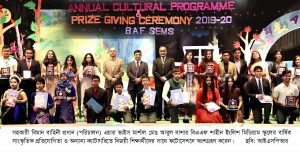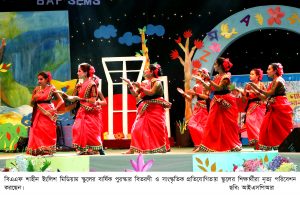 (17)