Sylhet, 03 February 2020: Joint Exercise titled "Ex Cope South-2020" between Bangladesh Air Force and US Pacific Air Force was held at Panichhara, Sylhet today, Monday (03-02-2020). The exercise began on 1 February and will conclude 6 February 2020.
Today one C-130 Aircraft of BAF and two C-130 Aircraft of US Pacific Air Force took part. 47 members of Bangladesh Army and Bangladesh Navy participeted Parajamping at Panichhara today.
Prior to depart for Sylhet the media personnel were briefted about the exercise by Air Commodore Md. Mostafa Mahmud Siddiq, Officer Commanding of Flying Wing of BAF Base Bangabandhu in Dhaka Cantonment. Earlier, Air Officer Commanding of BAF Base Bangabandhu Air Vice Marshal M Sayed Hossain delivered his welcome address to the journalist.
Besides, enhancing humanitarian assistance capability during any natural disaster, the objective of the exercise is to ensure maximum utilization of BAF transport aircraft and develop interoperability between BAF and United States Air Force. It may be mentioned that this exercise includes assessment of the functional suitability of various equipments with suggestion for future improvement, exchange of training and standardization of maintenance of transport aircraft.
A total of 250 Bangladesh Armed Forces personnel and 67 US Pacific Air Force members are taking part in the 6 day long exercise.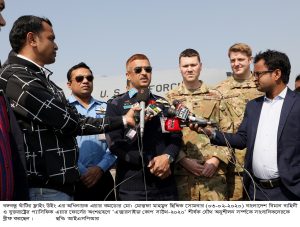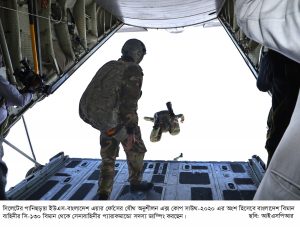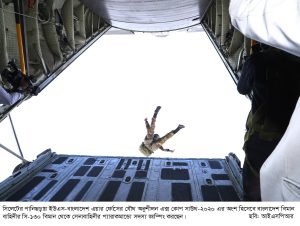 (31)