Rasulpur (Tangail), March 04:- Security Adviser to the Hon'ble Prime Minister of the Govt of the People's Republic of Bangladesh, Major General (Retd) Tarique Ahmed Siddique, rcds, psc, witnessed the Search and Combat Rescue exercise of Bangladesh Air Force at Rasulpur, Tangail as a part of BAF Annual Winter Exercise "WINTEX-2020-1" on the closing day (04-03-2020). The Chief of Air Staff of Bangladesh Air Force was also present there.
The main objective of the exercise is to assess and evaluate the operational capability of Bangladesh Air Force to safeguard her own air space. The exercise also will help to identify the limitation and draw appropriate lessons for improvement in strenghening air defence capability of Bangladesh.
There are three steps of the exercise- Logistic exercise (LOGEX), Communication exercise (COMEX) & Live exercise (LIVEX). As a part of the exercise, the pilots of BAF fighter aircraft, transport aircraft and helicopters practised different air combat maneuvers and tactics including attak and interception by the fighter aircraft, surveillance from the air to the enemy attacking area, protecting Air Bases, providing logistic support, troops rotation, transporting weapons, special operation and search & rescue mission.
The exercise was conducted from Sylhet, Tangail, Lalmonirhat, Shamshernagar, Rasulpur, Sudharam and all Air Force Bases, Stations and Units since 01 March 2020. All types of BAF fighter aircraft, transport aircraft, helicopters, radar squadrons, Missile unit including all BAF personnel took part in the exercise.
Chief of Air Staff Air Chief Marshal Masihuzzaman Serniabat, BBP, OSP, ndu, psc visited various BAF installations to witness different activities of WINTEX-2020-1. To make the exercise more effective & realistic and to co-ordinate with other forces Bangladesh Army, Bangladesh Navy, Civil Defence, BGB and BNCC (Air Wing) participated in the exercise in limited scale.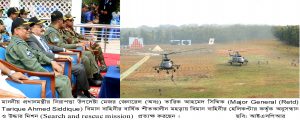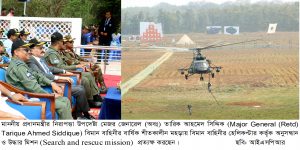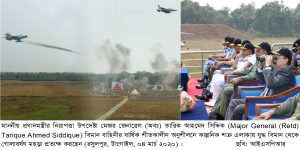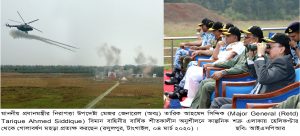 (49)