Dhaka, 12 March: The 43rd Annual Command Safety Seminar of Bangladesh Air Force was held at BAF Falcon Hall, Dhaka on Thursday (12-03-2020).
Chief of Air Staff Air Chief Marshal Masihuzzaman Serniabat, BBP, OSP, ndu, psc graced the seminar as Chief Guest and distributed Flight Safety trophies and certificates for maintaining best safety record.
Chief of Air Staff said that laser lighting, drone and paper balloons flying in adjacent to Airport and Air Bases is a great threat to flight safety. Presently, situation is leading to a severe turn. He drew the attention to all concerned and called upon to be cautious about it .He disclosed that finalisation of drone registration and flight rules formulation is on progress. He further said that unauthorized flying of drones, paper balloons and laser lighting is a severe crime.
In his speech, he appreciated BAF's achievement of attaining considerable flying hours and also highlighted the importance of Flight Safety. He emphasized on the quality training of people at all level to achieve uncompromising standards which would ultimately result to better flight safety. He urged all to gain sufficient professional knowledge on equipments and their uses in order to gain utmost safety in air operation. He also added that each accident takes place due to few factors; he advised all to avert any undesirable aircraft accident by identifying those contributing factors and using the experience from the previous incidents.
He applauded the noble objective of the seminar for creating opportunity to share experiences for BAF professionals to strengthen the bondage and cooperation in promoting flight safety.
Bangladesh Air Force Base Bashar was awarded with "Inter-Base Flight Safety Trophy" and No.1 Squadron, BAF was awarded with "Inter-Squadron Khademul Bashar Flight Safety Trophy" for the highest achievement with utmost safety in the year 2019. BAF officers and airmen of Air HQ and all BAF Bases were present on the occasion.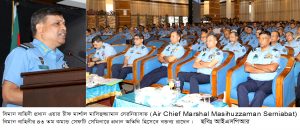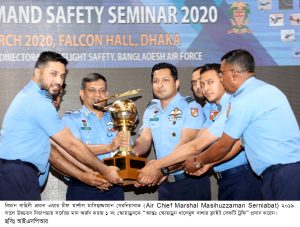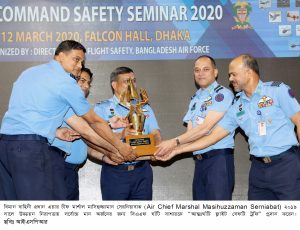 (19)