Chattogram, January 30:- Inter-Base Badminton Competition-2020 of Bangladesh Air Force concluded at Bangladesh Air Force Base Zahurul Haque, Chattogram on Thursday (30-01-2020). seven team of Bangladesh Air Force took part in the competition.
In the final match (Doubles), BAF Base Zahurul Haque team became champion by defeating BAF Base Bangabandhu team by straight 2-0 sets. On the other hand, in singles, BAF Base Paharkanchanpur team became champion by defeating Air Headquarter Unit team by straight 2-1 sets.
LAC Atul Chandra of BAF Base Bashar team was adjudged the emerging player and Hirak Ali of Paharkanchanpur team was adjudged the best player in the competition.
Assistant Chief of Air Staff (Plans) Air Vice Marshal M Shafiqul Alam, BBP, OSP, BSP, ndc, fawc, psc witnessed the final match and distributed prizes among the winners as the chief guest. Earlier,
Air Officer Commanding of BAF Base Zahurul Haque Air Commodore ASM Fakrul Islam, GUP, ndc, afwc, psc inaugurated the competition on 26 January 2020. Air Officer Commanding, Senior BAF Officers, Airmen and other members of the Base were also present on the occasion.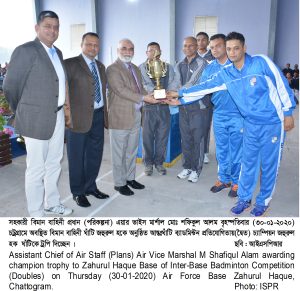 (11)