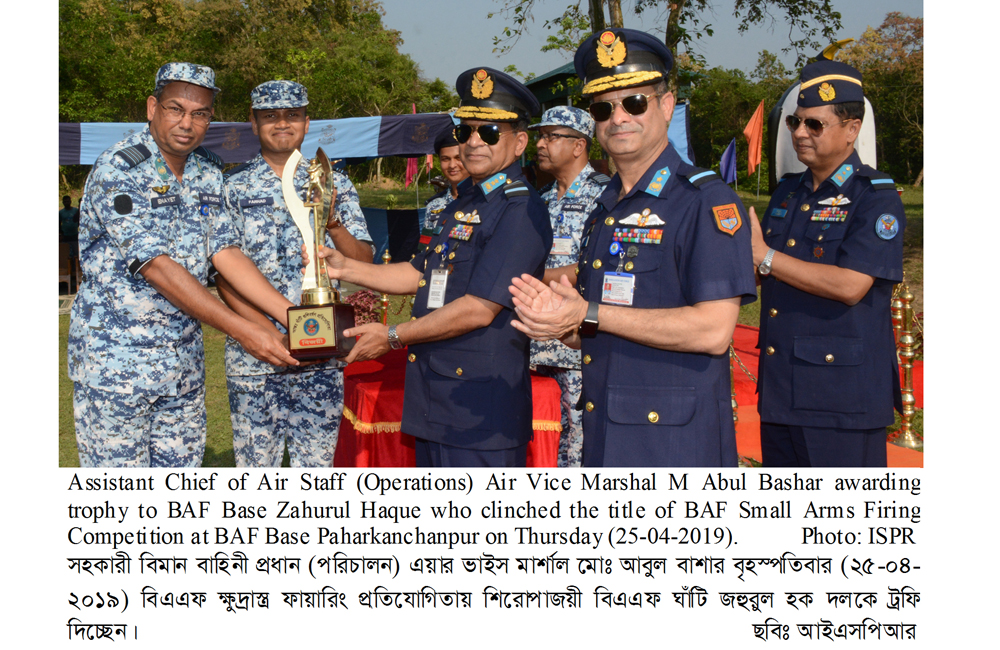 Paharkanchanpur (Tangail), April 25: Inter-Base Small Arms Firing Competition of Bangladesh Air Force concluded here at BAF Base Paharkanchanpur on Thursday, (25-04-2019).
Bangladesh Air Force Base Zahurul Haque team emerged as champion by scoring 740 points out of 810 points while Bangladesh Air Force Base Bashar team became runner up by scoring 720 points.
Squadron Leader Md Lainuzzaman Noman of Bangladesh Air Force Base Bashar team was adjudged the best shooter by his overall performance. He scored 149 points in Rifle firing and 114 points in pistol firing. Mentionable that 07 teams of Bangladesh Air Force participated in the competition.
Assistant Chief of Air Staff (Operations) Air Vice Marshal M Abul Bashar, BBP, OSP, ndc, acsc, psc witnessed the final event as Chief Guest and distributed prizes among the winners. Earlier, Air Officer Commanding of local Base Air Commodore Md Zahidur Rahman, GUP,nswc, psc inaugurated the competition on 24 April 2019.
Among others senior BAF officers from Air Headquarters and local base, airmen and other members of the base were present in the ceremony.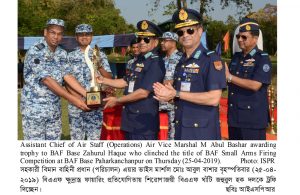 (4714)