Dhaka, 12 May:- Chief of Air Staff Air Chief Marshal Masihuzzaman Serniabat, BBP, OSP, ndu, psc departed for Sweden on Sunday (12-05-2019) on a four-day official visit.
During visit, Chief of Air Staff will join "The International Forum for the Military Simulation, Training & Education Community" (ITEC) – 2019 at Stockholm. It's an annual forum where representatives from across the military, civil sector, industry and academia connect and share knowledge about military simulation, training and education community. Presenting industries latest innovations and discussing future reqirements for military training and simulations is a part of ITEC platform.
Chief of Air Staff will also exchange views with Swedish Armed Forces and Swedish Air Force on bilateral issues. It is expected that this visit by Chief of Air Staff will play an important role for strengthening the existing relationship between Sweden Air Force and Bangladesh Air Force.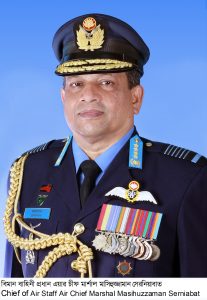 (32)