Chattogram, 04 November 2019:A joint exercise 'Cooperation Afloat Readiness and Training (CARAT)-2019' between Bangladesh Navy and US Navy has inaugurated at Chattogram Today (04-11-2019). Assistant Chief of Naval Staff (Operations) Bangladesh Navy Rear Admiral M Makbul Hossain as  the chief guest and Rear Admiral Murray Tynch, Commander logistic Group, Western Pacific Command Task Force 73 (CTF-73) of US Navy was present as special guest in the opening ceremony held at Bangladesh Navy's 'School of Maritime Warfare and Tactics (SMWT)' Auditorium. Besides other, all Administrative Authorities of Chattogram Naval Area, representative of Armed Forces Division and senior officers of three services were present in the ceremony.
Exercise CARAT is the biggest naval exercise between Bangladesh Navy and US Navy. In addition to Bangladesh Navy, US Navy operates this bilateral exercise at various times along with other countries. This Joint exercise is a timely and modern naval training exercise. The exercise is being held mainly in two phases. In the first phase, various preparations and coordination meetings were held under the pre-training phase from 2 to 3 November 2019. The second phase is conducting from 4 to 7 November 2019 with different subject-based training and exercise.
The main objective of this exercise is to further enhance the existing bilateral relations between US and Bangladesh Navy. Besides, it is an opportunity to increase their capacity and to get acquainted with advanced technology this will be accomplished through various theoretical and practical training. The exercise is being conducted under the overall supervision of Commander BN Fleet.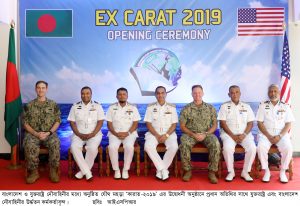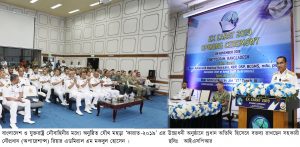 (65)