Dhaka, March 11:- The certificate award ceremony of No. 64 Flight Safety Officers' Course of Bangladesh Air Force was held at Flight Safety Institute (FSI) of BAF Base Bashar on Wednesday (11-03-2020).
Assistant Chief of Air Staff (Plans) Air Vice Marshal M Shafiqul Alam, BBP, OSP, BSP, ndc, fawc, psc attended the ceremony as Chief Guest and distributed certificates among the trainee officers.
A total of 19 trainee officers participated in this course over a period of 10 weeks, where 16 from Bangladesh Air Force, 02 from Bangladesh Navy and  one from Sri Lankan Air Force successfully completed the course BAF of Squadron Leader Md. Zunaidul Islam received the "Chief of Air Staff's Trophy" for his best performance in the course. The Chief Guest congratulated the trainee officers for successful completion of training and urged them to perform duties with professionalism.
Amongst others, senior officers of Bangladeash Air Force and representative of  Bangladeash Navy  were present on the occasion.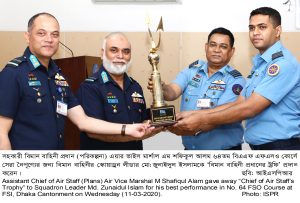 (17)