COLOURFUL RAISING DAY PROGRAMME HELD AT BUP
Dhaka, July 31: Bangladesh University of Professionals (BUP) in Bangladesh, which is known as a unique landmark for natural beauty and educational institution. The eleventh founding day of the university was observed during the rainy season this year by the initiative of the BUP Cultural Club and Literature Club. The university entered the 11th year after walking for 10 years on barefoot. On the occasion of the eleventh founding day of the university, the entire campus was redesigned with rainbow light in the buildings of the institute and colorful arches were established at the main entrance. Besides, university roads, corridors are decorated with balloons, festoons and flags of various colors.
Vice-Chancellor Major General Md. Emdad-ul-Bari, ndc, psc, te inaugurated the programme on 31 July 2019 by cutting the cakes of the anniversary and releasing pigeons along with colourful balloons. Pro-Vice Chancellor Prof M Abul Kashem Majumdar, PhD, all teachers, officials and students participated in the celebration. After the celebrations, the Vice Chancellor congratulated all the officials, teachers and students to make the event successful.
The day-long programme culminated in an intriguing cultural programme by the students and an impeccable performance of Joler Gaan.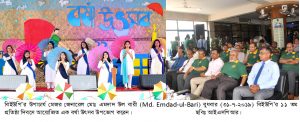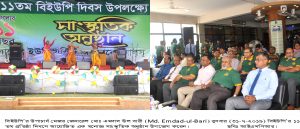 (16)