GRADUATION DINNER OF DSCSC COURSE 2020 HELD
Dhaka, 31 January 2020: The Graduation Dinner of Defence Services Command and Staff College (DSCSC) Course 2019-2020 was held on 30 January 2020 at DSCSC Officers' Mess, Mirpur. Honourable Speaker Dr. Shirin Sharmin Chowdhury graced the occasion as the Chief Guest. Among others, senior officials from three services, civil high officials, Defence/Military Attaches of the representative countries, permanent staff and graduating course participants of DSCSC attended the Dinner.
At the beginning, Commandant of the College Major General Md Enayet Ullah, BSP, ndu, psc delivered his welcome address. In his speech, the Commandant congratulated all the graduating officers and expressed thanks and gratitude to the faculty, staff and others associated with the college for their relentless effort to make the course a success.
This year, in DSCSC 2019-2020 course, total 235 officers including 125 officers from Bangladesh Army, 34 officers from Bangladesh Navy, 22 officers from Bangladesh Air Force and 54 overseas officers from 21 countries namely China, India, Indonesia, Kuwait, Malaysia, Maldives, Nepal, Nigeria, Pakistan, Palestine, Philippines, Saudi Arabia, Sierra Leone, South Africa, Sri Lanka, Sudan, Tanzania, Turkey, Uganda, USA and Zambia will be graduating from this College.
In her address, the Honourable Speaker Dr. Shirin Sharmin Chowdhury expressed her gratefulness and satisfaction for being able to attend the graduation dinner at a moment of birth century of the father of the nation Bangabandhu Sheikh Mujibur Rahman. She congratulated all graduating course participants on successful completion of the course. She also expressed her satisfaction for the high standard of training that is imparted at DSCSC. She highlighted the important role of DSCSC in the field of Armed Forces Officers' training and expected that the College will continueto accelerate its standard in future.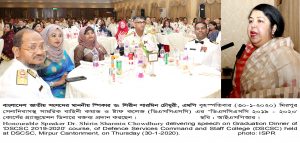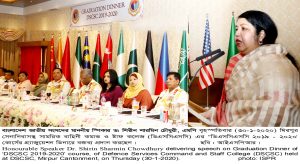 (32)