INTERNATIONAL UN PEACEKEEPERS DAY  ASSEMBLY HELD
Dhaka, May 29:- The International Day of UN Peacekeepers-2019 was observed with due respect along with other countries of the world on Wednesday (29-5-2019) in Bangladesh.
The day long programme began with "Peacekeepers Day Assembly" arranged by Bangladesh Air Force Base Bashar, Dhaka and Air Force Base Zahurul Haque, Chattogram in the morning.
Principal Staff Officer of Armed Forces Division Lt. General Md Mahfuzur Rahman, OSP, rcds, ndc, afwc, psc inaugurated the event by releasing pigeons, balloons and festoons in Dhaka area and Major General S M Matiur Rahman, afwc, psc, GOC 24 Infantry Division, Chattogram inaugurated the said event in Chattogram area as the Chief Guest.
On the occasion, the Chief Guest and representative of local UN organization delivered speeches highlighting significance of Bangladesh Peacekeeping Forces in UN peacekeeping mission.
The representatives from Ministry of Foreign Affairs, Armed Forces, Bangladesh Police, UN agencies and Inter Service Organization, Dignitaries, Student of different school/colleges and media personnel took part in the events.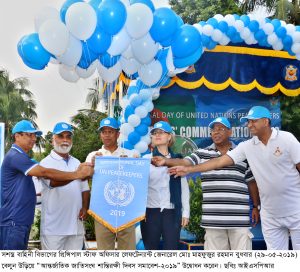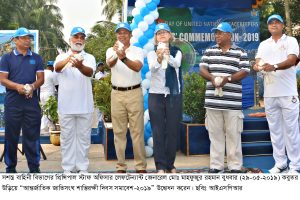 (18)