Lt Gen Sheikh Mamun Khaled awarded with distinguished fellowship by USI
Dhaka, 25 August 2019: Lieutenant General Sheikh Mamun Khaled on Monday has been awarded a fellowship from the United Service Institution (USI) of India in recognition of his exceptional contribution to the study and practice of Military Leadership.
Lieutenant GeneralSheikh Mamun Khaled SUP, rcds, psc, PhD is Commandant, National Defense College, Bangladesh. Lieutenant GeneralPK Singh, PVSM, AVSM (Retired), Director of USI of India signed the fellowship certificate.
The USI of India was founded in 1870. The institution is a national security and defense services think tank based in New Delhi. It describes its aim as the 'Furtherance of interest and knowledge in the art, science and literature of the defense services'. USI operates centers for research in various areas of national security.
It may be noted that Lt. Gen Sheikh Mamun Khaled is the first Bangladeshi as well as foreign recipient of this honor from the USI of India.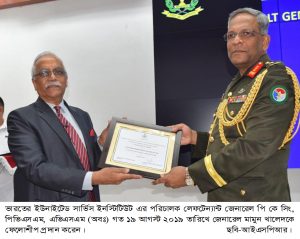 (93)