SEMINAR ON "NON-TRADITIONAL SECURITY CHALLENGES IN A GLOBALIZED WORLD: A COMMON STRATEGY FOR DEVELOPING COUNTRIES'' HELD AT NDC
Dhaka, 28 November 2019:  National Defence College (NDC) at Mirpur Cantonment today, Thursday (28-11-2019) organised a day-long seminar on "Non-Traditional Security Challenges in a Globalized World: A Common Strategy for Developing Countries". Dr. Tawfiq-e-Elahi Chowdhury, Bir Bikram, Adviser to the Hon'ble Prime Minister (Power, Energy and Mineral Resources Affairs), was present as the Chief Guest.
Hon'ble Adviser Dr. Tawfiq-e-Elahi Chowdhury in his closing address as the Chief Guest stated various important aspects of Environmental Security, Climate Change and Migration of Bangladesh. He appreciated NDC for taking the initiative of organising a seminar on such an important contemporary issue of the country.
The seminar was moderated by Professor Dr. Kawser Ahmed, Department of Oceanography and Professor Dr. Delwar Hossain, Department of International Relations, University of Dhaka.  Faculty Members of NDC, Eminent academia and personalities from both military and civil society, Course Members of National Defence Course and Armed Forces War Course 2019 attended the seminar.
Professor Dr. Hassan Mahmud, Department of Environmental Science a and Management, North South University; Mr. A K M Mamunur Rashid, UNDP-BD Climate Change Specialist; Professor Md. Mafizur Rahman, Department of Civil Engineering, BUET; Dr. Tasnim Arifa Siddique, Founding Chair, Refugee and Migrating Movements Research Unit (RMMRU); Dr. Khondoker Mokaddem Hossain, Pro Vice Chancellor, Open University and Mr Asif Munier, Migration and Refugee Specialist presented their keynote papers on different sub themes of the seminar. The discourse suggested thought-provoking ways forward in regards to Environmental Security, Climate Change and Migration, which drew attention of the audience and deserves due consideration.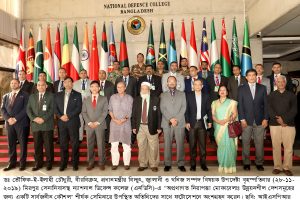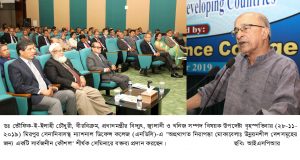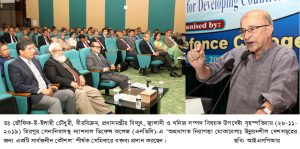 (23)