TRUST BANK LIMITED CELEBRATED ITS 20 YEARS ANNIVERSARY
Dhaka, 02 December: Trust Bank Limited celebrated their 2 decades of successful journey in a befitting manner at Sena Malancha on Novmber 30, 2019. Chief of Army Staff & Chairman of Trust Bank Limited General Aziz Ahmed, SBP, BSP, BGBM, PBGM, BGBMS, psc, G graced the occasion as Chief Guest.
Bank's Chairman General Aziz Ahmed delivered his valuable speech for the invited distinguished guests. He thanked the guests for their presence and cut a cake along with high officials of the bank to mark the occasion. On the occasion, a colourful cultural programme was arranged. The programme started with the welcome address by the Managing Director Faruq M. Ahmed.
Moreover, senior officials of Bangladesh Army, Ex-Managing Directors, well-wishers from various industries, distinguished members of society and a multitude of high-ranking veterans of the financial sector graced the occasion with their presence and applauded this historic milestone of the Trust Bank Limited. The event rejoiced all the significant milestones along their 20 year journey with special emphasis on how they are proud and humbled to have played an important role in transforming the economic sector and facilitating the development of the country as a key financial player. It is this role that has contributed to earning the trust, appreciation and respect of the people and other organizations as one of the leading private banks of today.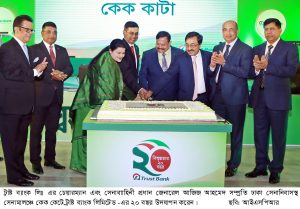 (24)