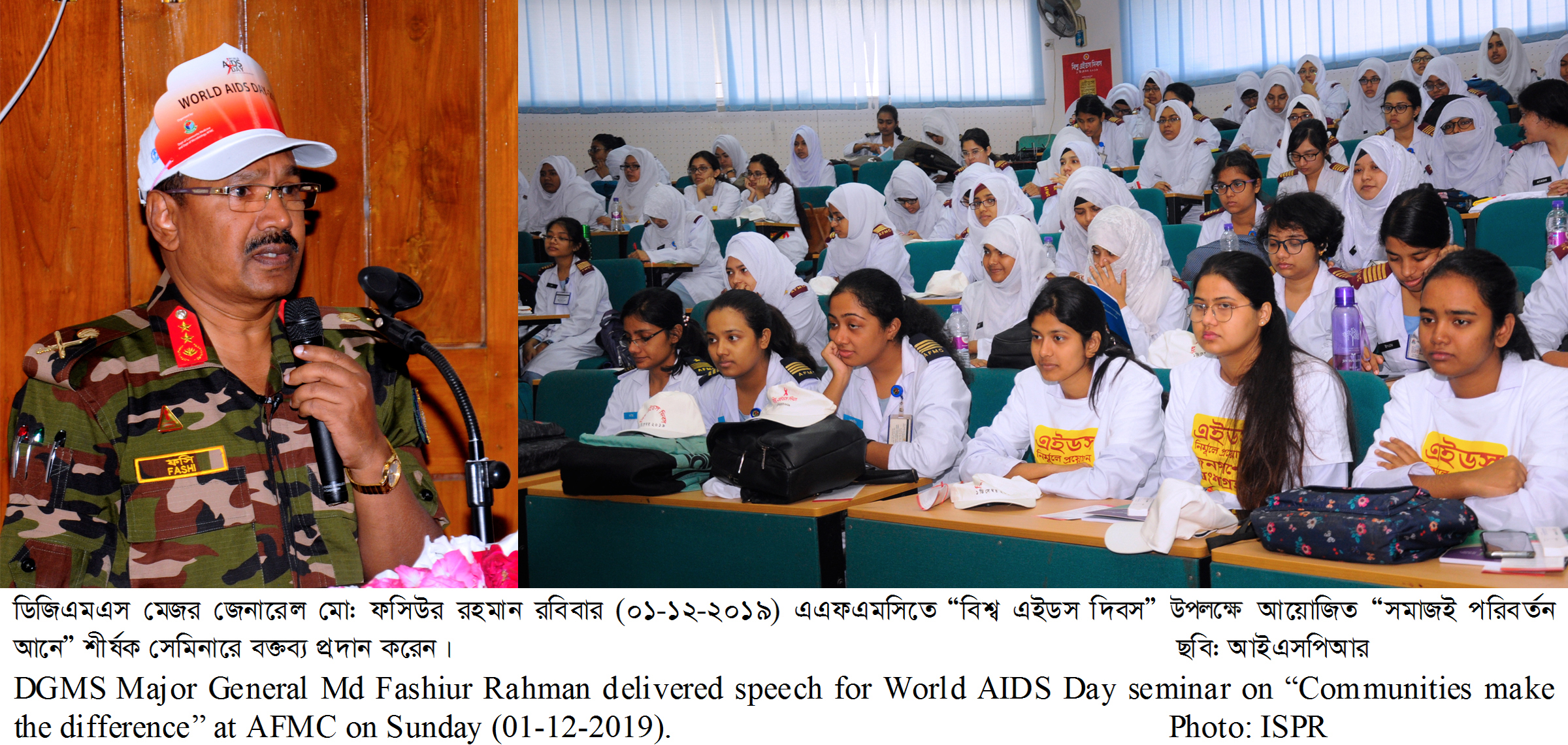 "WORLD AIDS DAY" OBSERVED AT AFMC
Dhaka: 01 December 2019:  "World AIDS Day" was observed at Armed Forces Medical College (AFMC) on Sunday (01-12-2019) which was organised by Department of Community Medicine & Department of Microbiology. This year the theme is "Communities make the difference ". The seminar was chaired by Major General Md Mustafizur Rahman, Commandant, Armed Forces Medical College.Chief guest was Major General Md Fashiur Rahman, Director General Medical Services.
A colourful rally was held at AFMC campus. Thereafter a seminar was conducted highlighting the importance of World AIDS Day and the role of communities in combating AIDS. The keynote speaker was Brigadier General Md. Rahimgir, Prof & Head, Dept of Microbiology, AFMC. In addition, the cadets from AFMC-18, 19 & 20 batches presented on the topic "An Overview on HIV/ AIDS".
The speakers highlighted the global & national burden and preventive aspects of HIV/AIDS as well as its management aspects. According to UNAIDS, 2018 global factsheet, 37.9 million people globally were living with HIV; 23.3 million people were accessing antiretroviral therapy; 1.7 million people became newly infected with HIV; 770,000 people died from AIDS-related illnesses; 74.9 million people have become infected with HIV since the start of the epidemic; 320 million people have died from AIDS-related illnesses since the start of the epidemic. In Bangladesh, adults and children newly infected with HIV was 1600 as of 2018; HIV incidence per 1000 population (all ages): 0.01; adult and child deaths due to AIDS: around 1000; People living with HIV: 14, 000.
HIV is the virus that causes HIV infection. AIDS is the most advanced stage of HIV infection. HIV is spread through contact with the blood, semen, pre-seminal fluid, rectal fluids, vaginal fluids, or breast milk of a person with HIV. Antiretroviral therapy (ART) is the use of HIV medicines to treat HIV infection. People on ART take a combination of HIV medicines (called an HIV regimen) every day.  ART is recommended for everyone who has HIV. ART can't cure HIV infection, but HIV medicines help people with HIV live longer, healthier lives. HIV medicines can also reduce the risk of HIV transmission.
Mentionable that Major General Md Mahbubur Rahman, Consultant Surgeon General ; Major General Susane Giti, Commandant, AFIP and Major General Md Azizul Islam , Consultant Physician General, Bangladesh Armed Forces were present as special guests. The programme was started with the welcome address by Brig Gen Md Saidur Rahman, Deputy Commandant, AFMC. Vote of thanks was given by Mr. Md. Abdur Razzaq, Founder Managing Director, JMI Group.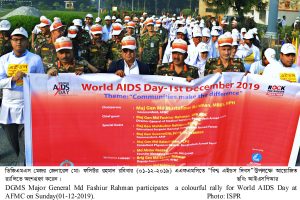 (19)